Fiberglass fabricators manufacture fiberglass using various materials and methods. Fiberglass fabricators produce shapes, products, and materials from glass threads utilized as reinforcement agents. Read More…
Fiberglass Fabricators
Fiberglass fabricators manufacture shapes, products and materials that are composed of glass threads used as reinforcement agents. Fiberglass is made when molten glass is extruded through ultra-fine openings under high pressure and heat.
Materials used by Fiberglass Fabricators
Fiberglass is a reinforced polymer that consists of small glass fibers in a resin matrix. The fiber is reinforced to increase the tensile strength of a resin. Fiberglass is used for constructing parts due to its high strength-to-weight ratio.
Fiberglass has other advantages, including the ability to tailor products layer by layer and the ease of producing complex and custom shapes.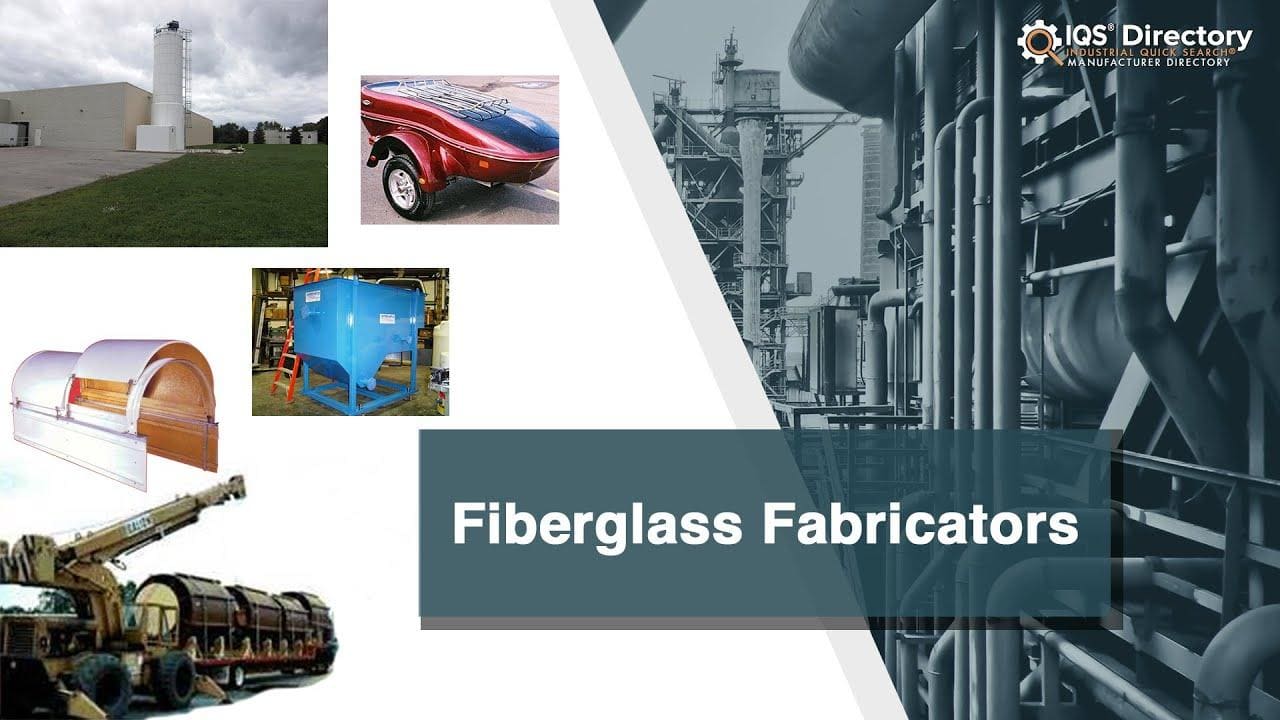 The raw materials used in fiberglass fabrication include various natural chemicals and minerals. The main ingredients are limestone, soda ash, and silica sand, which must be weighed carefully in exact amounts and thoroughly mixed together. After completing the mixing stage, the ingredients are melted in a furnace. The furnace is heated and then maintained at a higher temperature than normal glass-making to form fibers. After melting, the glass is transferred to bushings with fine orifices that allow the glass to pass through as fine filaments.
Resins
Fiberglass composites are created by adding glass fibers to a specific resin type. The most common types of resins used are polyester and epoxy. Their methods for making fiberglass include molding, mold-making, and laminating operations
Epoxy Resins
Epoxy resins are higher performance as well as high-priced systems. They are used in applications that require strength and dimensional accuracy and in which weight is critical. Due to their superior mechanical performance and resistance to environmental deterioration, epoxies are almost exclusively used in airplane components.
Epoxy resins are also excellent for boat construction applications due to their improved adhesive characteristics and resistance to water deterioration. In addition, epoxies are cured by a "hardener" instead of a catalyst, which makes them different from polyester resins.
Polyester Resins
Polyester resins are styrene-based products utilized in all types of composite construction. They are cost-effective, corrosion-resistant, and more forgiving than epoxies. As a result, poly resins are employed in many contexts, including the construction of boats, the fabrication of various components for model-making, or the creation of ponds and swimming pools.
Fiber composites, commonly known as Duroplastes, can be made with poly resins. These are separate from thermoplastics because they cannot be welded and are not malleable. Polyester resins fall into two basic categories: slow curing and quick curing. There are several intermediate stages of cure as well. The final project's mechanical and chemical qualities will be impacted as a result since this has an influence on the cross-linking process during curing.
Methods Used by Fiberglass Fabricators
The process is referred to as the molding process.
The Molding Process
There are several processes in which fiberglass molding can be performed, including the compression molding process, the hand lay-up process, the spray-up process, and resin transfer molding.
Compression Molding
The compression molding process utilizes a slug of hard material. This procedure produces high-strength, intricate pieces in various sizes. Matched metal dies are mounted in a hydraulic molding press. Once the heated mold halves are closed, and the material charge has been manually or robotically inserted within, up to 2,000 psi of pressure is applied. Depending on the part's thickness and size, the cycle duration ranges from 1 to 5 minutes. It can be molded in features like bosses, inserts, and ribs.
Net size, form, two top-notch finished surfaces, and exceptional part-to-part repeatability are the distinguishing features of compression-molded components. In addition, it doesn't cost much to trim and finish. This process is most suitable when manufacturing high-volume or high-strength fiberglass.
Hand Lay-up Molding Process
The hand, lay-up molding process includes hand-impregnating resins into fibers that have already been formed into a knitted, woven, bonded, or stitched fabric. The method used to apply the resin is mostly by roller or brush. The material will then cure at atmospheric temperature and pressure. Since this process allows for close control of the application of materials, it is the method of choice to produce many fiberglass parts.
Spray Up Molding Process
A spray-up process involves feeding chopped fiber into a catalyst resin and directly spraying it onto the mold with a hand-held gun. The material will then cure at atmospheric temperature and pressure. This technique uses this technique to manufacture parts that require large area coverage, corrosion resistance, and moderate strength.
Resin Transfer Molding Process
A resin transfer molding process involves loading dry fiberglass reinforcement into a closed mold. The resin will then be injected into the mold to form the finished part. Since there is the complete enclosure of the material into the mold in the net or near-net shape, resin transfer molding offers superior surface finishes, less material waste, and close control of tolerances.
Laminating Fiberglass Fabrication Process
This process involves the application of a thin protective coating of resin and reinforcement over a composite part. Laminating is done to add strength, smooth out rough surfaces, or provide protection from chemical attacks.
Machining Fiberglass Fabrication Process
This process uses tools for shaping fiberglass materials by removing small quantities of materials at a time. Some types of fiberglass, like G10 may require special equipment for the machining process because of hardness.
Applications of Fiberglass Fabrication
Fiberglass material has many industrial uses, including:
Electrical equipment
Storage tanks
Skylights
Machine components
Pipes
Ducting
Corrosion-resistant structural equipment
Fiberglass is also used in aircraft, automobile, and transportation applications.
Benefits of Fiberglass Fabrication
Fiberglass products are highly durable.
Fiberglass products are very resistant to chemicals and corrosion.
Fiberglass products are cost-effective.
Fiberglass products are resistant to EMI/RFI.
Fiberglass products are reliable and easy to handle.
Choosing the Proper Fiberglass Fabricator
To ensure the most constructive outcome when purchasing a fiberglass fabrication from a fiberglass fabricator, it is important to compare several companies using our directory of fiberglass fabricators. Each fiberglass fabricator has a business profile page highlighting their areas of experience and capabilities, along with a contact form to directly communicate with the company for more information or request a quote. Review each fiberglass fabricator business website using our proprietary website previewer to quickly learn what each business specializes in. Then, use our simple RFQ form to contact multiple fiberglass fabricators with the same form.
Fiberglass Fabricators Informational Video