Glass fiber is used as reinforcement in fiberglass, and the glass fiber is then flattened into a sheet. Other names for it include glass-reinforced plastic and glass fiber-reinforced plastic. Read More…
Fiberglass Sheets
Fiberglass sheets are flat planes composed of glass reinforced plastic, or GRP. Fiberglass fabricators offer a wide variety of fiberglass compositions and products to meet the varied needs of the market.
How Fiberglass Sheets are Manufactured
Fiberglass is made by heating raw ingredients together in a furnace. Ingredients may include silica, sand, limestone, kaolin clay, and dolomite. Batching is the process of weighing, measuring, and preparing the ingredients for the furnace. Manufacturers can automate the batching process.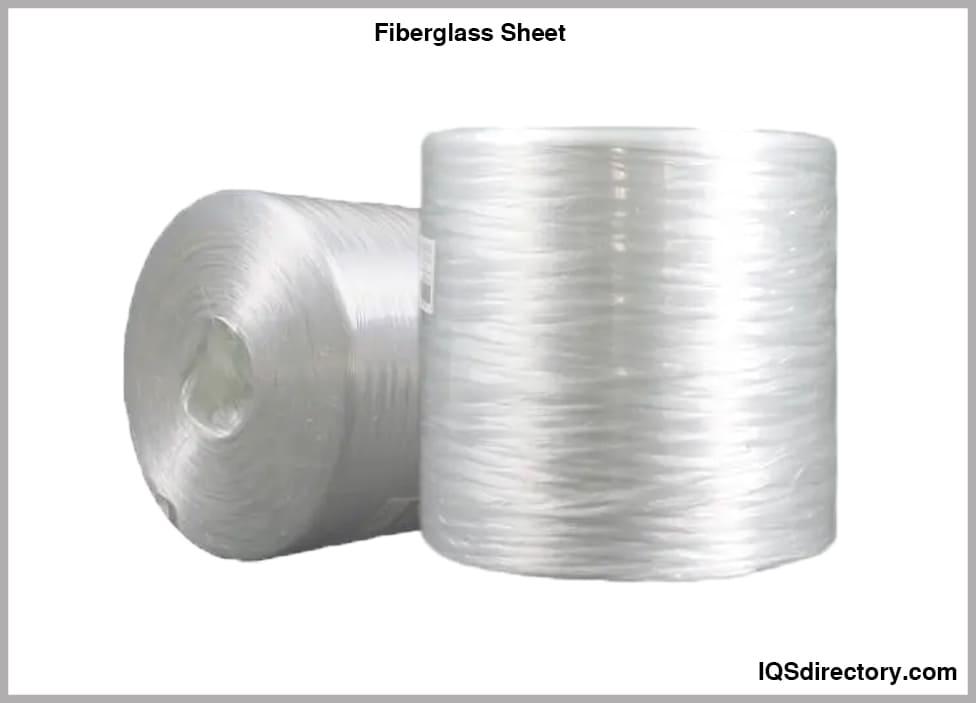 After batching, the ingredients are heated to their melting points in a furnace. The furnace is built with enough space for the molten glass to flow into a refiner, where the glass is allowed to cool.
The last section of the furnace has bushings underneath that extrude the heated glass. The heated glass is extruded through extremely small brushes or spinnerets to create filaments. As the heated glass streams through the bushings, water jets cool the glass to keep its shape. The filaments are chemically finished and coated, then bundled together in a group called a roving. The weight of the glass fibers is measured in a unit called a 'yield'. Yield is determined by the quantity, density, and thickness of the filaments in a roving.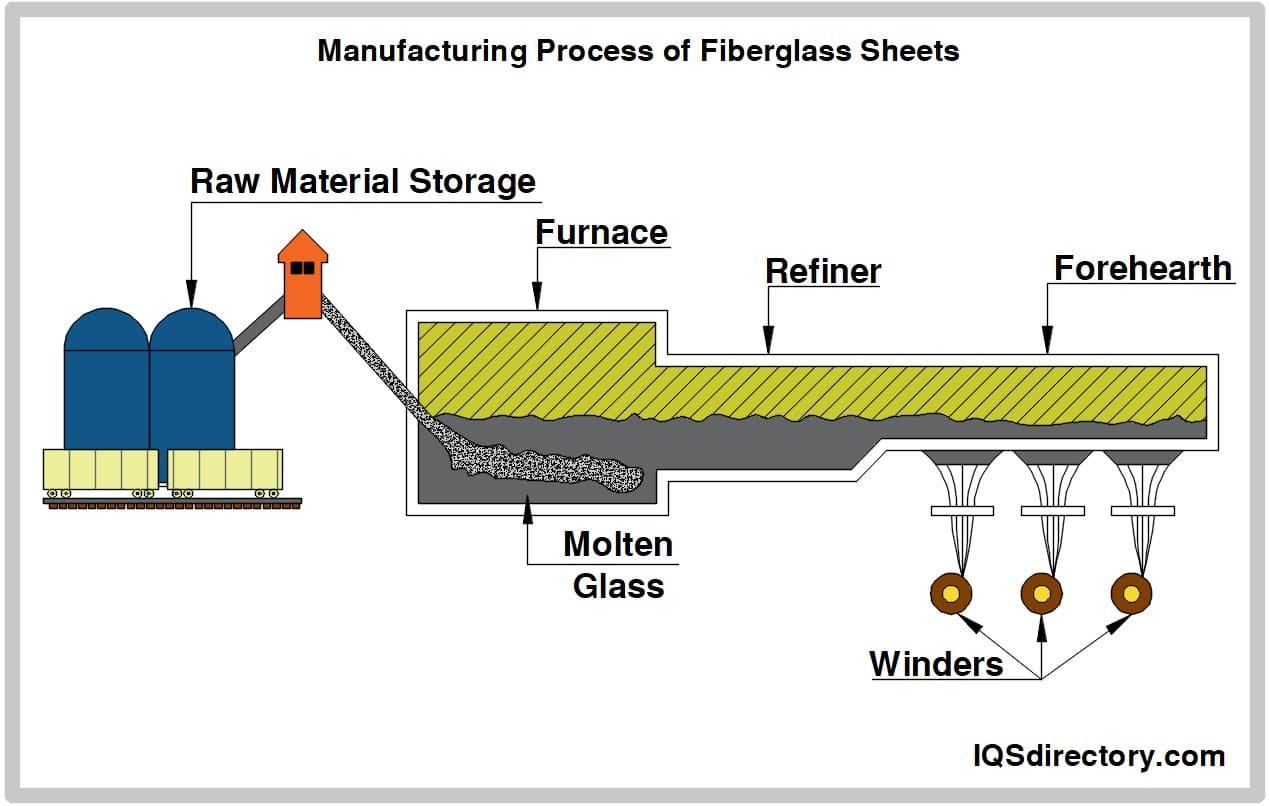 The streams of extruded molten glass are mechanically pulled into filaments through attenuation. A high-speed winder catches the molten streams, and as it spins rapidly, strain is produced, drawing the streams into thin filaments. Depending on the type of fiber, several various procedures are employed, the two main types being the continuous filament and the staple fiber methods.
Types of Fiberglass
A-Glass Fiberglass
A-glass is chemically resistant and called alkali glass or soda-lime glass. It is the most prevalent form of fiberglass used to produce window panes, glass jars, and bottles. A-glass is affordable, hard, and chemically stable. A-glass is ideal for recycling because it can be remelted and softened.
C-Glass Fiberglass
C-glass (also known as chemical glass) is incredibly resistant to chemical impact. When exposed to corrosive conditions, C-glass maintains structural equilibrium. C-glass has large amounts of calcium borosilicate to help ensure that stability. Chemicals used to produce C-glass have pH values that offer high resilience in alkaline or acidic environments. C-glass is often used as a surface tissue in the outer layer of chemical tanks and pipes.
E-Glass Fiberglass
E-glass, commonly referred to as electrical glass, offers effective electrical insulating qualities. E-glass cannot be used for marine applications because it's chloride-ion sensitive. It is a lightweight composite material with industrial and aerospace applications. Although E-glass was initially created for electrical applications, it is currently used in many other contexts.
Additionally, glass-reinforced plastic can be produced using a mixture of thermosetting resins. The panels and sheets made from glass-reinforced plastic are used in various industries to help maintain structural integrity.
Applications of Fiberglass
Fiberglass is ideal for electrical applications because of its high mechanical strength and thermal stability. Fiberglass coatings are used to insulate wiring. Transformers, distribution-pole hardware, computer parts, and smartphone components all have fiberglass. Due to its non-conductive nature, fiberglass is also used in the power generation industry.
Consumer goods like furniture frames, divider screens, decorative trays, wall plaques, sporting goods, playground equipment, etc., can all be made from fiberglass in consumer goods. Because of its increased strength, less weight, formability, durability, and resistance to wear and corrosion, fiberglass is the main material in numerous consumer items.
Choosing the Correct Fiberglass Sheet Supplier
To ensure the most constructive outcome when purchasing fiberglass sheets from a fiberglass sheet supplier, it is important to compare several companies using our directory of fiberglass sheet suppliers. Each fiberglass sheet supplier has a business profile page highlighting their areas of experience and capabilities, along with a contact form to directly communicate with the supplier for more information or request a quote. Review each fiberglass sheet business website using our patented website previewer to quickly learn what each business specializes in, Then, use our simple RFQ form to contact multiple fiberglass sheet companies with the same form.
Fiberglass Sheets Informational Video